With Boris Johnson poised to finally get a Brexit deal over the line if the Conservatives get an outright majority on December 12th, this election could be the last throw of the dice for Remain supporters. In fact, the bookies currently have the odds of a Tory majority at around 5/6. Unsurprisingly then, the Remain campaigners are now advocating tactical voting to deny Johnson his majority.
So is there a website to which Remainers can turn, to find out who best to vote for? In fact… awkwardly, there are three. Such is the disunity in the Remain movement that three major organisations have developed their own. Best for Britain has launched Get Voting, Gina Miller's Remain United organisation has its own too, and the People's Vote Campaign, which has recently been mired in civil war over the leadership of Roland Rudd, will soon be launching tactical-vote.uk.
Now here's the awkward thing: The three websites do not always recommend voting the same way. For example, if you look at Kensington – a key battleground constituency that Labour sensationally won from the Tories in 2017, Best for Britain recommends voting for the Liberal Democrats, while Remain United recommends voting for Labour. People's Vote hasn't yet published its recommendation, though does identify the constituency as a key target, and says it will publish its advice soon.
So why is one site recommending voting for different parties? Because in order to make judgements about the best way to tactical vote, each site has used a different statistical model to make recommendations.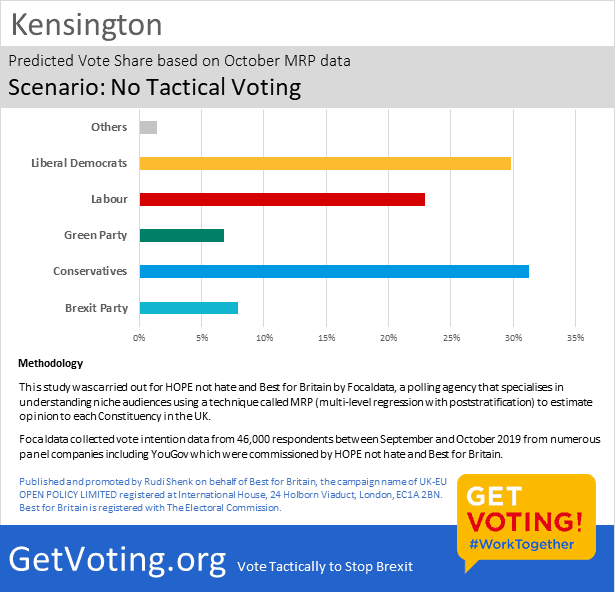 Both live sites used what is known as "MRP" modelling, which stands for Multilevel Regression and Post-Stratification. This is a widely accepted method by which pollsters are able to use demographic and other data, such as knowing how people voted in the 2016 referendum, to make educated guesses about the voting preferences of a given constituencies.
The big challenge with any constituency-level guesses in the UK is that constituencies are simply too small to poll in the traditional way – by ringing up enough people in each and asking. So instead, we can take what we know about the types of people who live in each constituency from census and other data, and map on to them how they would be most likely to vote based on a wide range of characteristics.
According to Best for Britain, it based its MRP model on a poll of 46,000 people, and factored in candidates' voting records too. It even says that it takes it into accounts tactical voting by Leave side. This could be why in Kensington, it recommends voting for LibDem candidate (and former Tory MP for another seat) Sam Gyimah, rather than Labour candidate Emma Dent Coad, who won last time around.
Remain United offers an even more detailed breakdown of its methodology, explaining that it also applies a "multi-variate Beta distribution" on its recommendations – essentially performing a statistical test to work out a matrix of possibilities for each seat based on a number of factors, including sampling errors, local factors – or even the pollsters themselves making mistakes. Using these matrices, it then tries to figure out which parties have a "realistic" chance of winning the seat, and bases recommendations on that.
People's Vote hasn't explained in much detail how its methodology works – though it does say that it is focusing on the 100 seats that it views as the most crucial – but crucially what could make outcomes here very different is that it isn't explicitly Remain, and is instead backing candidates who back a "final say" referendum too, even if they are leavers.
Simply put then, even if the three campaigns are using similar datasets as a starting point, they are processing and augmenting the data in different ways – which is what is causing disparate outcomes and plenty of in-fighting among activists on Twitter. But given the stakes of the election, if tactical voting is to make an impact on December 12th, Remainers should probably agree on the best way to vote before then.