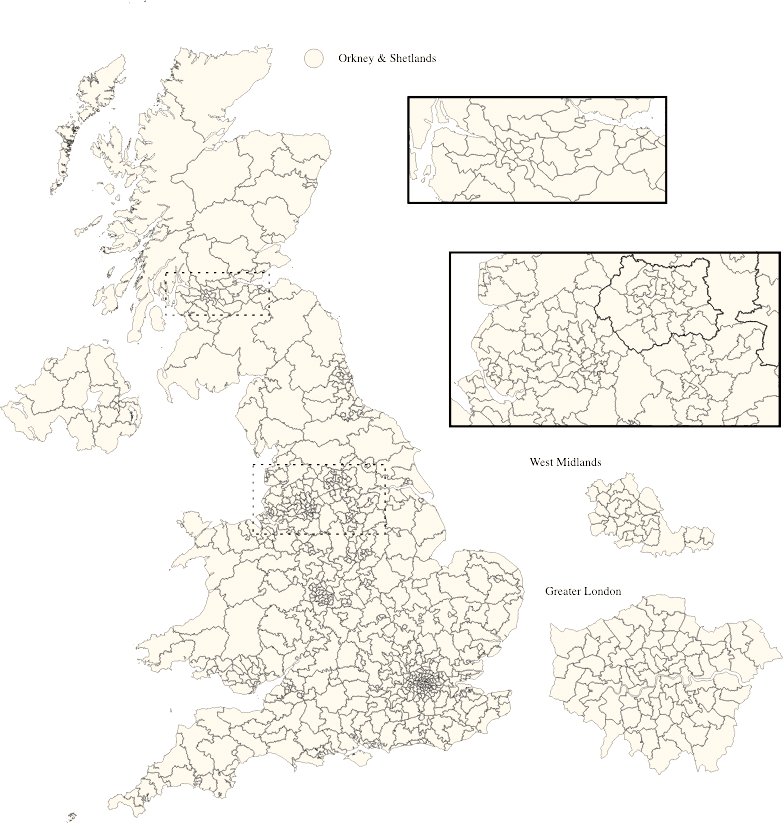 And… for our final election map, we have 2019. Obviously it is blank because, well, we don't know what is going to happen yet. But tomorrow Britain goes to the polls and from 10pm, we should be able to start colouring it in.
So what could some of the most interesting things be about this election. Here's some questions that we're hoping to answer:
Will Labour's strategy of trying to play both sides on Brexit pay off, or will it be squeezed on one side by the Liberal Democrats and the other by the Conservatives?
Will this mark a realignment of British politics, where Labour becomes the party of cosmopolitan cities and of graduates, and the Conservatives the party of communitarian towns and the non-university educated?
Will tactical voting and the "Remain Alliance? actually make an impact in any constituencies?
How will the tactic withdrawals by Remain parties in Northern Ireland change things there?
Could we see the schism between England and Scotland grow as one will go heavily Conservative, and the other swing further towards the SNP?
And finally… Will it be possible to form a stable government after the election… or is this election going to be merely a rehearsal for the 2020 election?