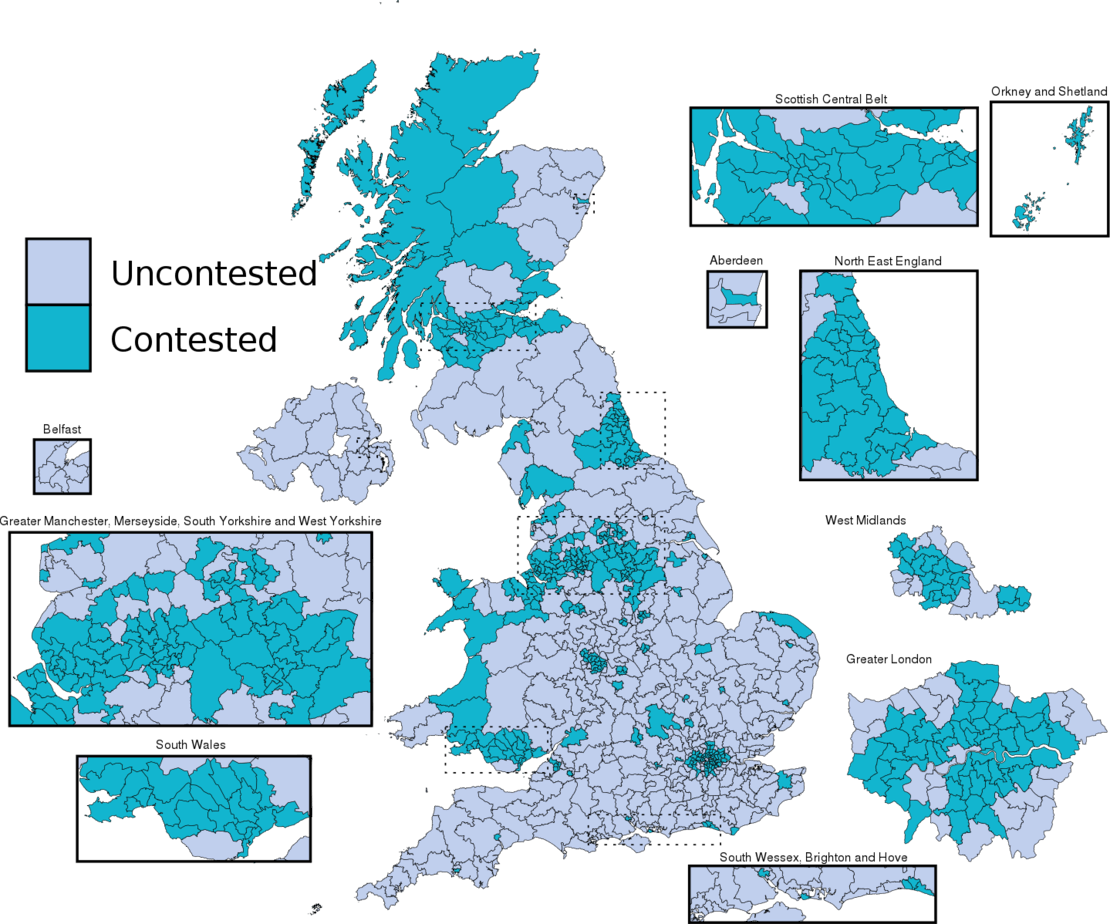 Back in the day it became something of a tradition that after election, UKIP would collapse into a cloud of acrimony and in-fighting. And that's when the party did well. The party would go to war with itself, and emerge with a new leader. Or maybe just Nigel Farage again.
But with UKIP now a non-entity in political life, the Brexit Party appears to be picking up this mantle with a new spin on the tradition: It's collapsing not after an election, but before.
Already this election campaign we've seen stories of Brexit Party candidates furious at Nigel Farage's betrayal: When he announced that he was standing down his candidates in constituencies where they're competing against Conservative candidates, he immediately put 300 noses out of joint. Several of the candidates are now standing as independents. (The map above shows the constituencies where the party is still standing.)
And now this morning, four Brexit Party MEPs, who were elected last May announced they were defecting to the Conservative Party. John Longworth, Lance Forman, Lucy Harris, and perhaps most notably Annunziata Rees-Mogg, sister of Jacob Rees-Mogg have all resigned the Brexit Party whip.
The change in the party's fortunes can be most clearly seen in the betting markets.
In a press release announcing the shift in the odds, Betfair's Katie Baylis said: "After starting their campaign with a bang, the Brexit Party has failed to live up to their own hype and today's resignations show that they are not the force Nigel Farage had hoped for. The party is now odds-on at 2/7 on Betfair Exchange not to win a single seat after being odds-on at 2/5 to win at least one in October."
Adding that, "Incredibly, they had been as short as 12/1 in June for an overall majority, but with the wheels starting to fall off their campaign they are now at 999/1."
Ouch.
So whatever happens in the election – it appears that the Brexit Party isn't a force that Boris Johnson is going to have to worry about.
And that leads to a curious final conclusion that's inspired by something on this week's New Statesman podcast. The hosts suggested that arguably the most important political event of the year was the creation and then the destruction of Change UK. The breakaway party was what forced Labour to move from its existing Brexit position to one of a second referendum.
But if we may add an additional suggestion: The creation of the Brexit Party had a similar impact on the other side of the spectrum. It's creation meant the Conservative Party had to double-down on hard Brexit, and moved to the right in a bid to stop the Brexit Party.
So maybe one day we'll look back on 2019 and wonder how it was that politics of this year was so fundamentally shaped by two tiny new parties – both of which were created during 2019, and both of which imploded before the end of the year.