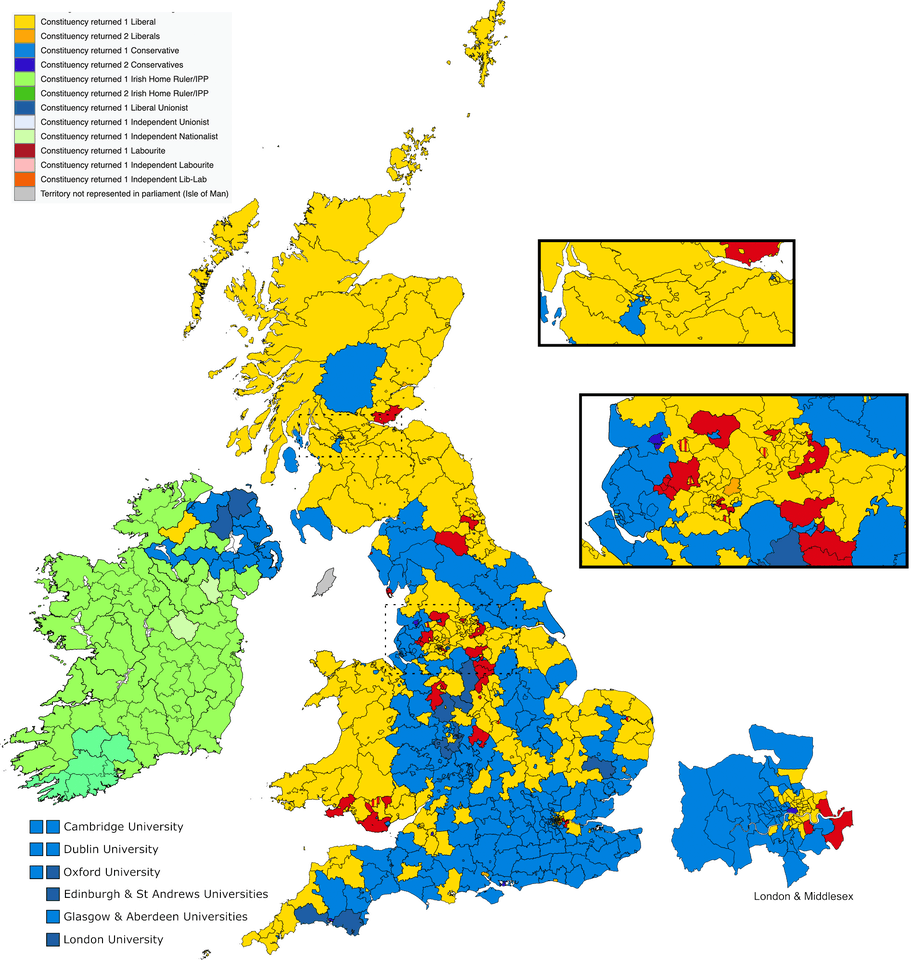 The map above shows the results of the December 1910 UK General Election – the second of two that year. The number of seats won out of 670 by the major parties (and % vote share) were as follows:
Liberal: 272. Leader & PM: Herbert Henry Asquith
Conservative and Liberal Unionist: 271. Leader: Arthur Balfour.
Irish Parliamentary: 74. Leader: John Redmond.
Labour: 42. Leader: George Barnes.
Notable things about the December 1910 election include:
By forming a government, the Liberals were able to persuade the House of Lords to pass the controversial "People's Budget", which enacted many wide ranging social reforms, such as the creation of Old Age Pensions.
This was the first election the Labour Party contested under its current name.
This Liberals were only able to form a majority with the help of the Irish nationalists.
This was the last British election where the largest party was a party other than Labour or the Tories until the 2014 European Elections.
Constituencies varied in the number of Member returned, with most constituencies returning 1 member, and the largest returning 2 members. Hatched colouring is used in constituencies returning members from separate parties. So, a 1:1 hatch indicates that 1 of the 2 members returned came from 1 party, with the remaining member coming from another. The colouring is also used to indicate this.
Other elections:
Find this map interesting? Then please share.