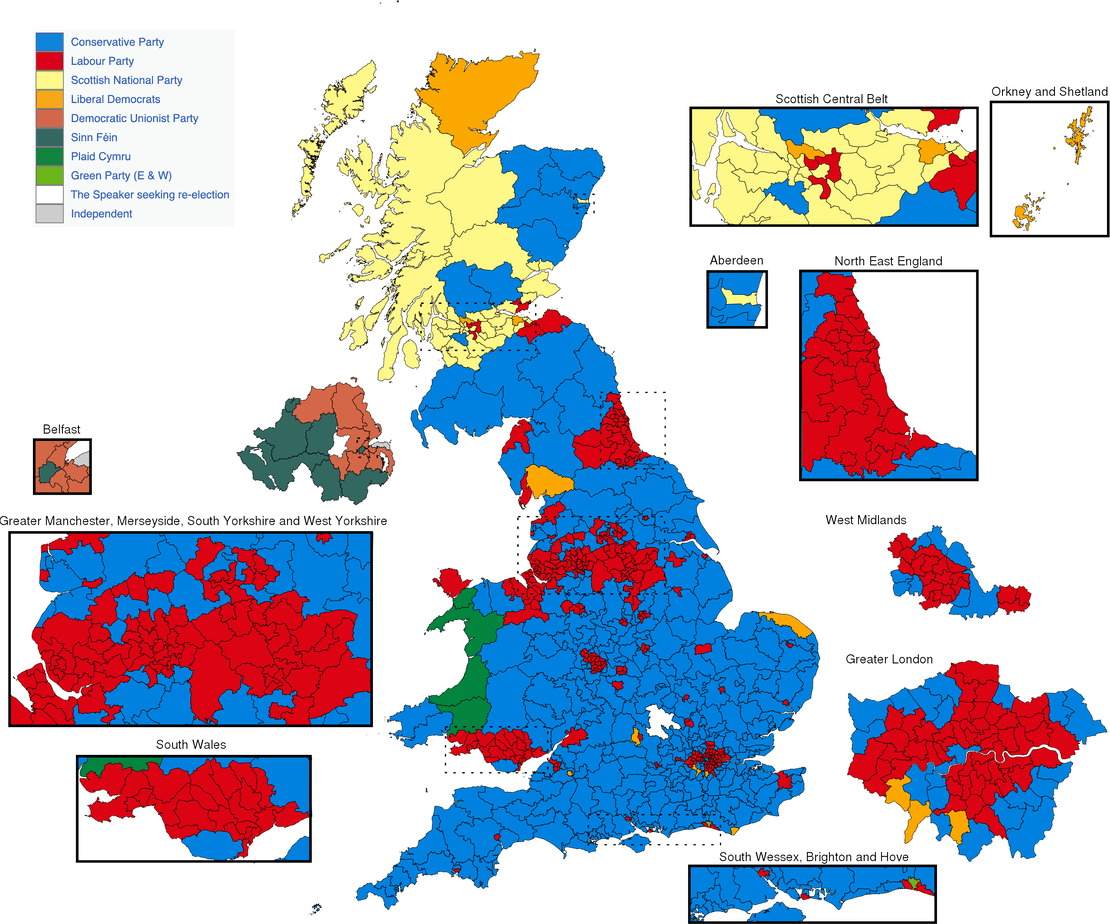 The map above shows the results of the 2017 UK General Election. The number of seats won out of 650 by the major parties (and % vote share) were as follows:
Conservatives: 317. Leader and Prime Minister: Theresa May.
Labour: 262. Leader: Jeremy Corbyn.
Scottish National Party: 35. Leader: Nicola Sturgeon.
Liberal Democrats: 12. Leader: Tim Farron.
Notable things about the 2017 election include:
This was an election called out of choice by new-ish Prime Minister Theresa May. She thought she'd be able to get an enormous majority, and polling suggested this could be the case too… but it ended disastrously, with the Conservatives losing seats and forced to go into coalition with the Northern Irish DUP.
May's undoing is largely pinned on her disastrous campaign. For all of the comparisons with the "Iron Lady" Margaret Thatcher, she combusted on contact with voters: Her proposed "Dementia Tax" played disastrously, and she was dubbed the "Maybot".
Conversely, the election was viewed by supporters of Jeremy Corbyn as vindication of his leadership, which had been challenged after the Brexit referendum. Sometimes Labour people forget that they didn't actually win this one.
Amazingly despite the electoral disaster, May was able to cling on as Prime Minister until July 2019.
The election showed signs of recovery for the Liberal Democrats, which picked up 12 seats by taking a staunchly anti-Brexit position. The big problem the party faced, however, was leader Tim Farron, a devout Christian, sending a rather ambiguous messages on same-sex marriage.
This election saw an outbreak of miniature electoral alliances, with smaller parties like the Greens and Liberal Democrats standing aside for each other in various constituencies, such as Caroline Lucas's Brighton Pavilion seat and South West Surrey, where the LibDems were best positioned to fight then health secretary Jeremy Hunt.
Find this map interesting? Then please share.