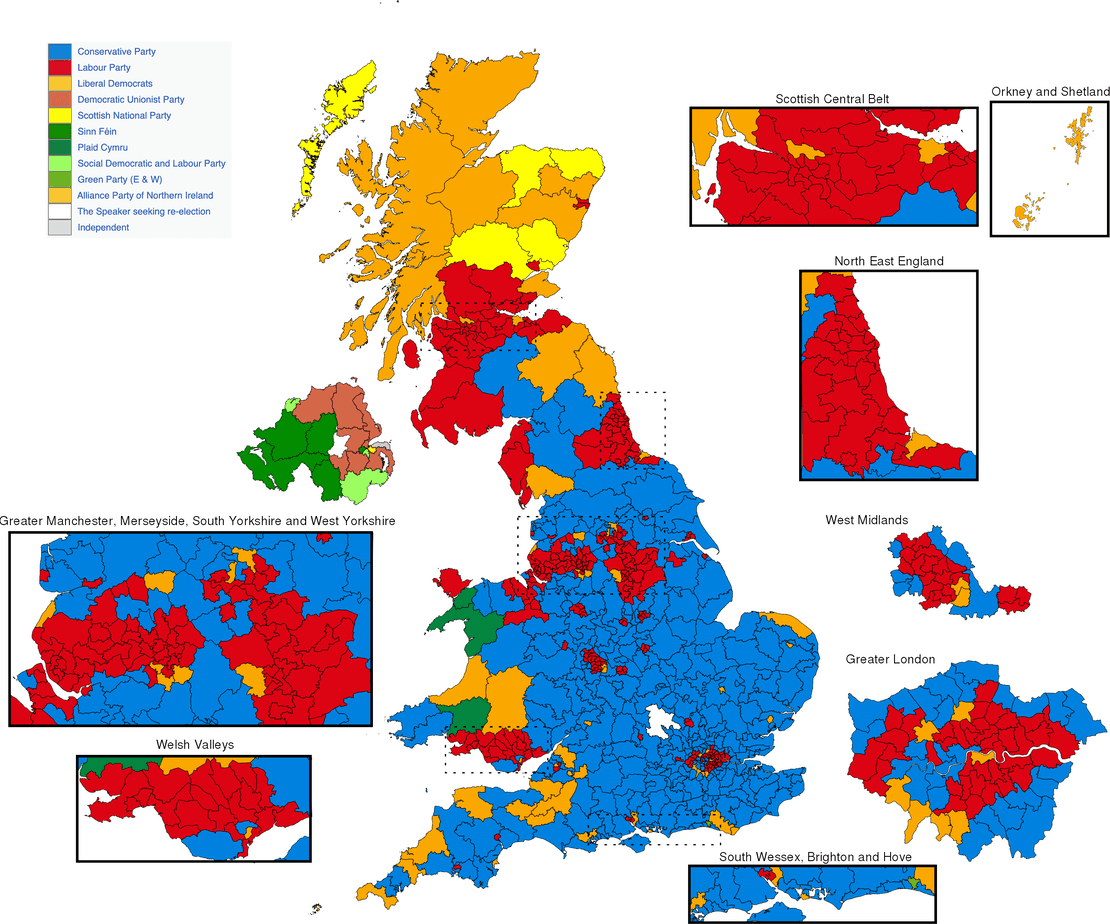 The map above shows the results of the 2010 UK General Election. The number of seats won out of 650 by the major parties (and % vote share) were as follows:
Conservatives: 306. Leader and Prime Minister: David Cameron.
Labour: 258. Leader: Gordon Brown.
Liberal Democrats: 57. Leader: Nick Clegg.
Notable things about the 2010 election include:
The result was the first coalition government since wartime. It followed a week of intense coalition negotiations between the Liberal Democrats and both parties.
This was the first election where the UK had US-style debates between the three main party leaders. After the first, Nick Clegg was viewed as the runaway winner, and "I agree with Nick" became the political catchphrase du jour.
The Green Party won its first ever MP, as Caroline Lucas won Brighton Pavilion.
Realistically, only the Tories had the numbers to form a coalition with the LibDems. A Labour-led coalition would have required the cooperation of all of the minor parties too in what was dubbed at the time a "rainbow coalition".
As part of the coalition deal, there were LibDem junior ministers in every department with a Tory minister, and vice-versa.
To cement the coalition in place, the new Parliament passed the Fixed Term Parliaments Act, which would have significant unintended consequences in 2019 during the attempts to call an election to break the Brexit deadlock.
The election in the Thirsk and Malton constituency was delayed until June because of the death of a candidate.
As part of the coalition negotiations, the LibDems extracted from the Tories an agreement to hold a referendum on changing the electoral system to Alternative Vote (AV). When the vote was held in 2011, nobody really cared and the proposal was resoundingly voted down.
Other Elections:
Find this map interesting? Then please share.