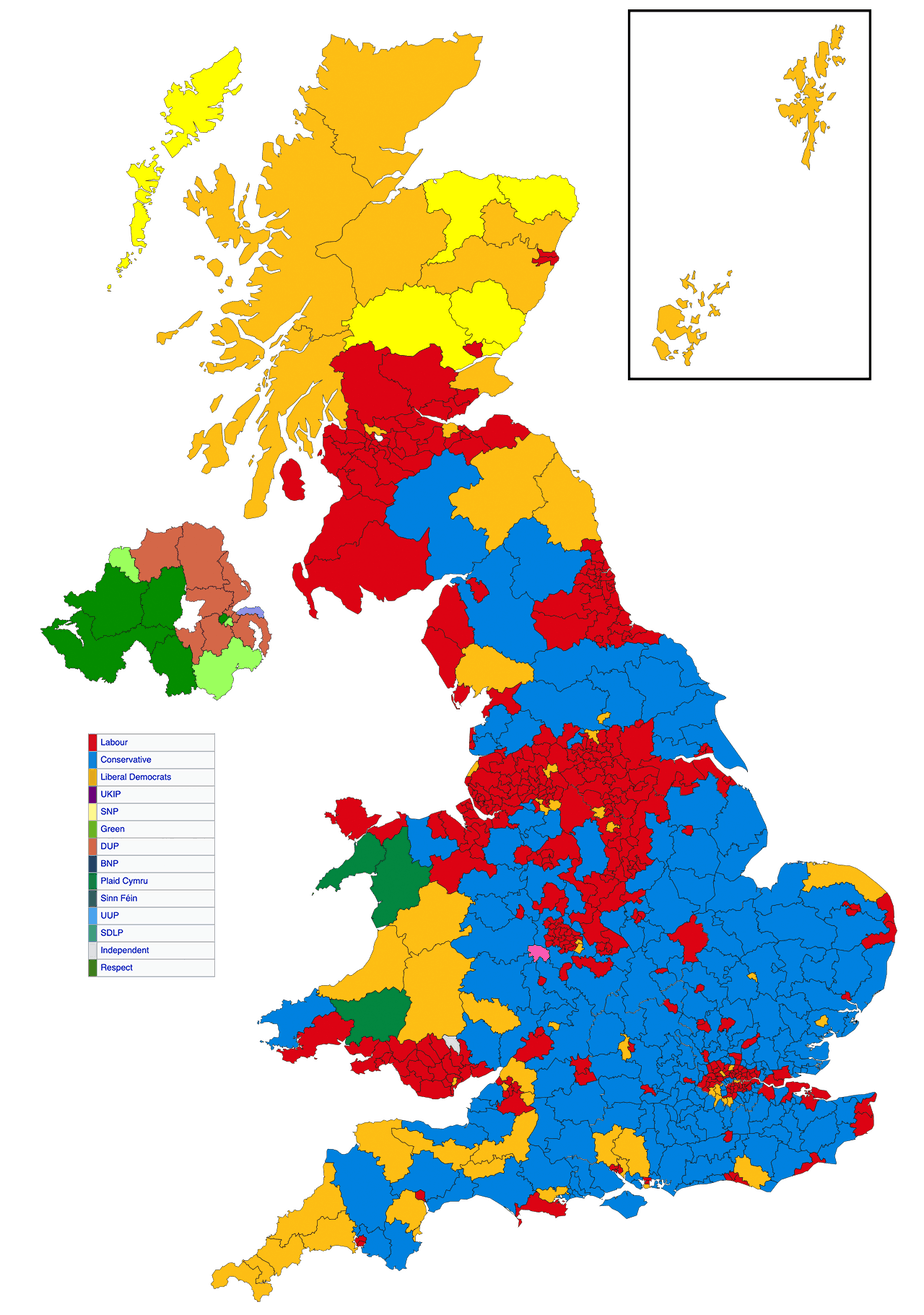 The map above shows the results of the 2005 UK General Election. The number of seats won out of 651 by the major parties (and % vote share) were as follows:
Labour: 355. Leader and Prime Minister: Tony Blair.
Conservatives: 198. Leader: Michael Howard.
Liberal Democrats: 62. Leader: Charles Kennedy.
Notable things about the 2005 election include:
After the 2001 election, William Hague resigned as Conservative leader and was replaced by Iain Duncan Smith. He was so unpopular among his own colleagues that he was turfed out as leader before even facing the public – and was replaced by Michael Howard in a 'coronation' that saw him elected leader unchallenged.
The Tories ran a notorious billboard campaign that said "It's not racist to control immigration", along withe the slogan "are you thinking what we're thinking?".
Despite Labour still having an impressive majority, it won just 35.2% of the popular vote – the lowest of any election winner in history.
This was the high watermark for LibDem performance, with the party winning seats after being the only party to oppose the Iraq war. By 2005, public sentiment had turned decisively against the war.
Firebrand former Labour MP was elected MP for his new party, Respect, in the London constituency of Bethnal Green and Bow.
After the election, Michael Howard stood down, leading to a leadership contest in his party between veteran shadow cabinet member David Davis and a young, upstart MP called David Cameron.
Tony Blair would only govern for two further years before finally being forced from office by his New Labour rival Gordon Brown.
Other Elections:
Find this map interesting? Then please share.