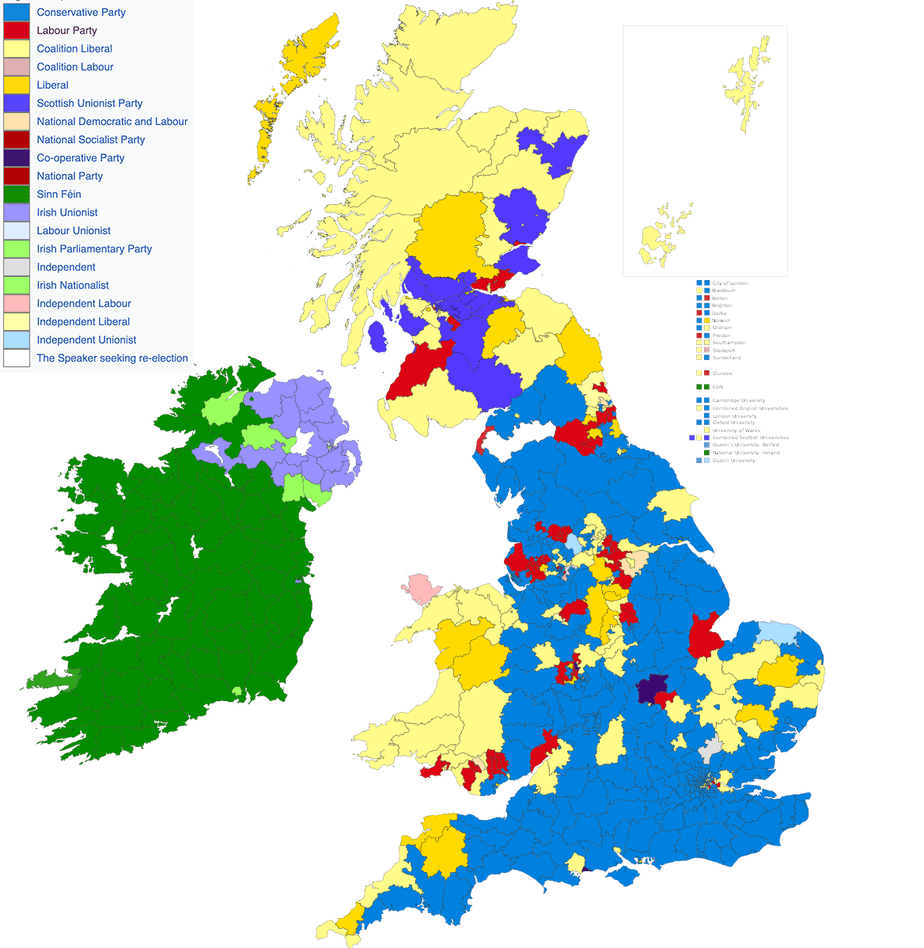 The map above shows the results of the 1918 UK General Election – the second of two that year. The number of seats won out of 707 by the major parties (and % vote share) were as follows:
Conservative: 382. Leader: Andrew Bonar-Law
Coalition Liberals: 127. Leader: David Lloyd George
Sinn Fein: 73. Leader: Éamon de Valera
Labour: 57. Leader: William Adamson
Liberal: 36. Leader: HH Asquith
Notable things about the 1918 election include:
This was the first election where women over 30 could vote, following the passage of the Representation of the People's Act, 1918.
Women were also eligible to stand, though the only woman to win was Sinn Fein's Constance Markievicz – though she never actually took her seat in Parliament because of her party's policy of not doing so. (Nancy Astor, the first woman to actually take a seat in the Commons, won a by-election in 1919.)
Sinn Fein won virtually every constituency in what is today the Republic of Ireland. This victory led to the declaration of Irish independence and the Irish civil war.
Curiously this was known as the "coupon election", as the wartime coalition government essentially stood as its own party, issuing endorsements to Conservative or Liberal candidates in each constituency. This meant the result was Liberal MP Lloyd George remaining Prime Minister, despite the Conservatives winning nearly twice as many seats.
Labour became the official Opposition for the first time – though because it lacked a leader – a non-coalition Liberal MP, Donald Maclean, took on the role of Leader of the Opposition.
Other elections:
Find this map interesting? Then please share.