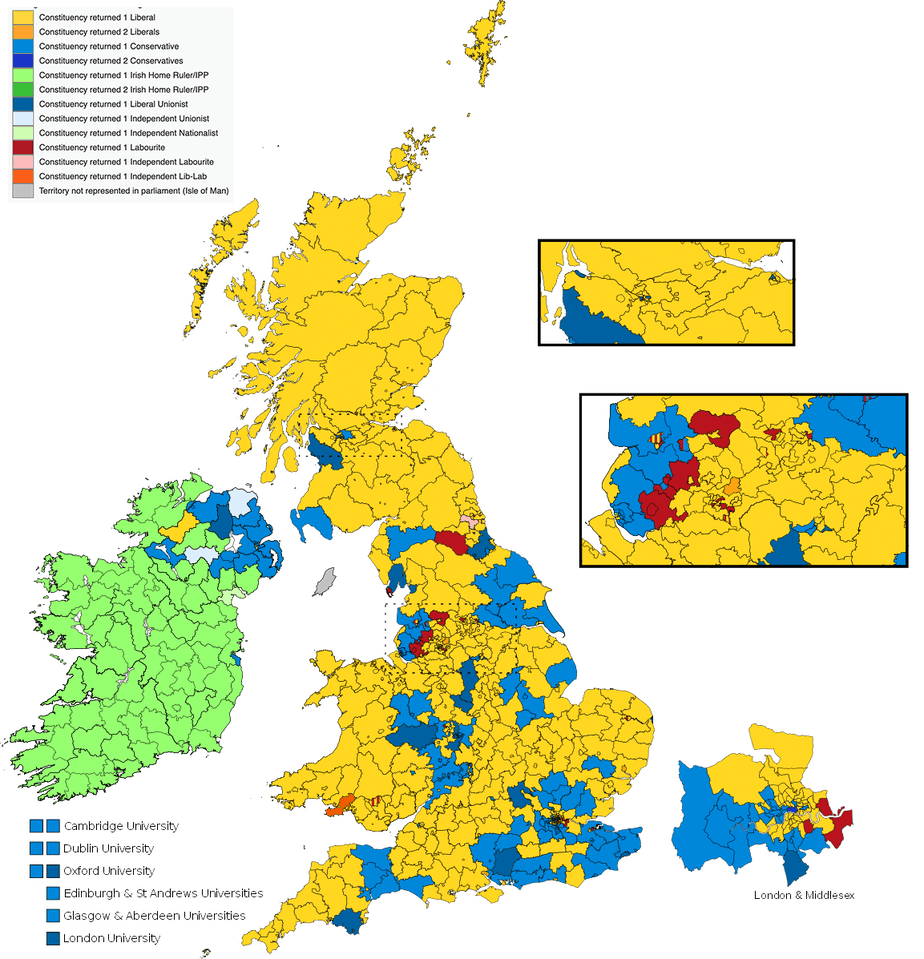 Map created by MrPenguin20 via Wikimedia
The map above shows the results of the 1906 UK General Election. The number of seats won out of 670 by the major parties (and % vote share) were as follows:
Liberal: 397. Leader & PM: Henry Campbell-Bannerman.
Conservative and Liberal Unionist: 156. Leader: Arthur Balfour.
Irish Parliamentary: 82. Leader: John Redmond.
Labour Representation Committee: 29. Leader: Keir Hardie
Notable things about the 1906 election:
It was the last time the Liberals won an absolute majority of seats.
Labour's success was partially due to an electoral pact with the Liberals, that meant in 31 of the 50 constituencies where Labour stood, the Liberals did not stand against them. 24 of the 29 Labour MPs elected came from these constituencies.
Arthur Balfour, the leader of the Conservative Party and the man who had been Prime Minister until only weeks before, lost his seat in Manchester East – the first time this had happened to a sitting Prime Minister. Make your own 2019 jokes here.
Amazingly only three members of the Conservative cabinet in the previous government retained their seat in this election.
Free trade was a major issue in the election, in another echo of 2019, with Liberals advocating in favour and Conservatives running opposed.
A note on the map: Constituencies varied in the number of Member returned, with most constituencies returning 1 member, and the largest returning 2 members. Hatched colouring is used in constituencies returning members from separate parties. So, a 1:1 hatch indicates that 1 of the 2 members returned came from 1 party, with the remaining member coming from another. The colouring is also used to indicate this.
See other elections:
Find this map interesting? Then please share: