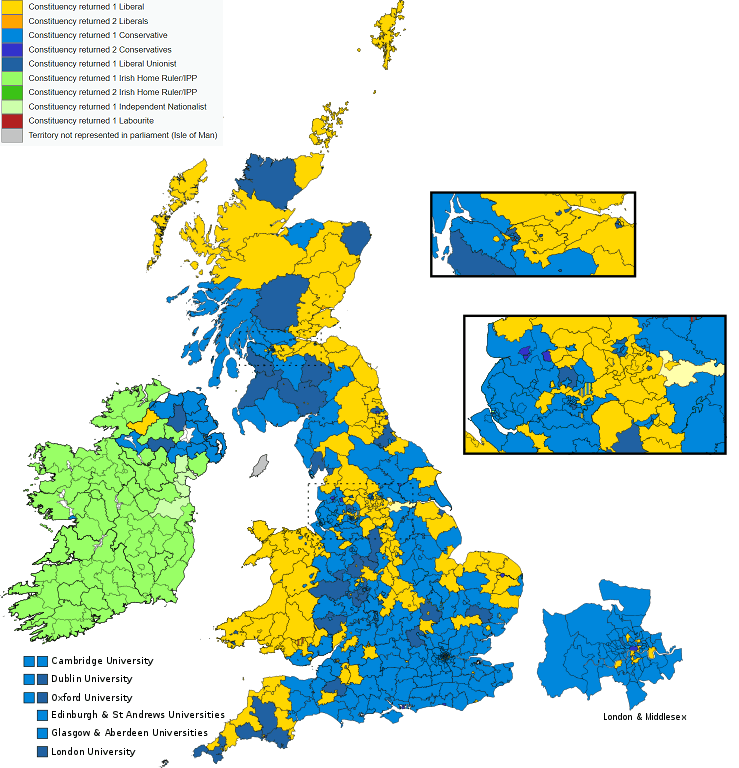 Map created by by Wikimedia user MrPenguin20
The map above shows the results of the 1900 UK General election. The number of seats won out of 670 by the major parties (and % vote share) were as follows:
Conservative & Lib. Unionist: 402 (50.2%). Leader & PM: Marquess of Salisbury
Liberal: 183 (45.1%). Leader: Sir Henry Campbell-Bannerman
Irish Parliamentary: 76 (1.8%). Leader: John Redmond
Labour Representation Committee: 2 (1.3%). Leader: Keir Hardie
Notable things about the 1900 General Election:
The Labour Representation Committee (predecessor to the modern Labour Party) won its first two seats in parliament.
Winston Churchill was elected to the House of Commons for the first time.
The last election under Queen Victoria.
In total just over 3.2 million votes were cast.
Cambridge, Dublin, Oxford, Edinburgh & St. Andrews, Glasgow & Aberdeen and London universities all had seats.
The Conservative & Lib. Unionist won re-election with 219 more seats than the Liberals despite only getting a 5.1% greater share of votes.
The election was held over a period of almost a month: 26 September and 24 October 1900.
A note on the map: Constituencies varied in the number of Member returned, with most constituencies returning 1 member, and the largest returning 2 members. Hatched colouring is used in constituencies returning members from separate parties. So, a 1:1 hatch indicates that 1 of the 2 members returned came from 1 party, with the remaining member coming from another. The colouring is also used to indicate this.
See other elections:
Find this map interesting? Then please share: